Wherein your humble scribe presents an homage to a certain introspective & philosophical scifi program from the 1970s in the form of characters written up using the 7th Edition Tunnels & Trolls rules. Because he's a very weird man.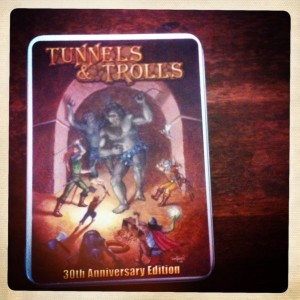 I've only played a handful of Tunnels & Trolls games in my life. And I've never played (or even read) Mercenaries, Spies & Private Eyes – which I believe to be essentially an iteration of the base T&T rules for modern non-fantasy gaming, though I could be wrong about that.
In any case, the core T&T rules seem ideally suited to adaptation for other genres, especially ones that (a) don't benefit from an obsessively detailed combat system and (b) might appear on the surface to be exceptionally weird for RPGs (or, perhaps, ones lacking the appropriate degree of dour seriousness we're all supposed to aim for as the avant garde, improvisational theatricians we're supposed to be).
So from time to time the simplicity of T&T calls to me from the 30th Anniversary Edition's little tin box I bought a few years back when a gas leak combined with an ice storm forced me and my wife to live in a hotel for a few days. And when that happens, I do weird things. Like write up several key cast members from a TV show I love as a test run for what it would be like to use T&T for a scifi game…
On September 13th, 1999, nuclear waste from Earth stored on the Moon's far side exploded catastrophically, knocking the Moon out of orbit, sending it and the inhabitants of Moonbase Landau hurtling uncontrollably into space. Led by the noble Commander Ivan King and featuring a talented multicultural crew, these unintentional explorers of the universe will often come face-to-face with strange aliens, questions of cosmic importance, and even death itself.
Ivan King / Leader / Human / 2
STR 13 CON 15 DEX 14 SPD 12
INT 15 PSI 12 LK 20 CHR 18
Height 6′ 3″ Weight 195 lbs.
Adventure Points 0
Combat Adds +11
Talents Philosophy 18, Piloting 17, History 18
Languages English, Others
CommKey, Laser Pistol (4d6+16), Woven TechSuit (4)
Dr. Olympia Bertrand / Explorer / Human / 1
STR 10 CON 14 DEX 13 SPD 14
INT 17 PSI 15 LK 14 CHR 15
Height 5′ 9″ Weight 150 lbs.
Adventure Points 0
Combat Adds +5
Talents Medical 23, Dancing 15
Languages English, Others
CommKey, Medical Kit, Woven TechSuit (4)
Prof. Sigurd Ernst / Explorer / Human / 2
STR 11 CON 11 DEX 13 SPD 12
INT 21 PSI 13 LK 15 CHR 12
Height 5′ 10″ Weight 175 lbs.
Adventure Points 0
Combat Adds +5
Talents Science! 26, Philosophy 25, Religion 22
Languages English, Others
Wealth 1,000 Cr
CommKey, Woven TechSuit (4)
Chief Pilot Kevin Tate / Soldier / Human / 1
STR 15 CON 16 DEX 14 SPD 13
INT 12 PSI 9 LK 18 CHR 16
Height 5′ 11″ Weight 170 lbs.
Adventure Points 0
Combat Adds +13
Talents Piloting 22, Fisticuffs 17
Languages English
Wealth 1,000 Cr
CommKey, Laser Pistol (4d6+16), Woven TechSuit (4)
Game Notes
I changed the T&T character class names a bit (Citizen is now Explorer, Warrior is now Soldier) and turned the WIZ stat into PSI.
None of the characters above have any PSI powers, which is good, since I don't have any idea (or inclination, at the moment) to figure out how to handle such things. The short answer is that I'd probably just use a selection of the T&T spells (renamed, probably) to represent PSI abilities and either tweak the Wizard class a bit to be a Psionicist class or else do away with it entirely and come up with some way of letting the psionics develop in other character classes.
If this were going any further I'd probably tweak the Explorer class to be more than just the Citizen class with a different name, but for now making the distinction between combatants and not-really-combatants seemed fair.
Oh, and I also upped the starting number of Talents to two in anticipation of the crew running into tough aliens who have significant stat modifiers. Those plucky humans are always showing up the creatures who should rightly kick their tails. Hmm, maybe Humans ought to have a mod to their LK stat? Maybe. But that's a discussion for a different time.