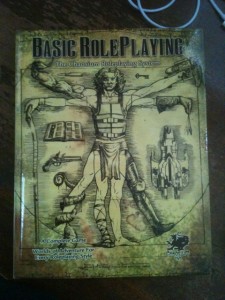 Actually, it's not the phonebook. It's the new Basic RolePlaying hardback. But it weighs as much as a phonebook. And it's yellow, too.
The interior pages are, as has been reported elsewhere, slightly glossy, but not excessively so. The hardback is, indeed, hard and seems like it will hold up well. The binding appears to be aces and should last for quite a long time indeed.
Also, a cursory glance of the book shows that the key errata from the original print run have been included.
All in all, I'm utterly delighted that Chaosium decided to do this print run in hardback and that I was able to put together the scratch to nab a copy. My original run softcover is still in solid shape, but now I can feel free to beat it to a pulp at the table, comforted by the knowledge that come what may, the shiny, sturdy hardcover will be with me for decades.
The key with this print run is, as before, the content. BRP remains my go-to system for actually running games. As much as I love Barbarians of Lemuria and its relatives, my players just prefer a bit more crunch in their gaming. BRP provides that. And fortunately, this flavor of BRP leans towards the lighter implementations as found in Elric!/Stormbringer (i.e., major wounds instead of hit locations, DEX ranks rather than Strike Ranks, etc.), which means I can still get by as a GM with minimal notes and precious little advanced planning. And that suits me just fine.