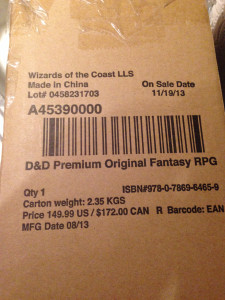 My replacement OD&D Premium Reprint box set arrived this morning. It's a brand new copy of the box set, still in its original shipping box.
I can say that there are no torn pages in any of the books in this copy of the set. I do feel like the overall quality of the books is a little lower, though. They don't seem as well stapled and there are a couple of pages where the printing isn't quite straight (like the page was just a tad off when it when through the press) – nothing dire, thankfully, but just not quite right, either.
Of course, after all of the delays and difficulties with this return I'm bound to be hypercritical and prone to being irritated by the tiniest thing, so take my assessment with a grain of salt. At least there's nothing so wrong with this copy I can't accept it. I definitely couldn't take going through the replacement process again.
Speaking of the replacement process, for those who are curious about the "little something extra" to be included to offset the shipping costs, it turned out to be copies of the Urban Underdark dungeon tiles, the Haunted Temples map pack, and the Shattered Keeps map pack. They add up to pretty close to what I paid for shipping, so if you paid more or less I'd expect you'll get more or less accordingly. I can't say I'm thrilled with these, but it beats a sharp stick in the eye.
My final assessment of this whole mess still leaves me with a negative opinion of WotC's customer support (web and direct phone, at least) and I can't say I'd recommend spending the money on this set if anyone asked me. It's nice to have, sure, but I don't think WotC has really put in the effort and quality control to justify the $150 they're charging for it. A product with this kind of price tag really ought to be produced with more care and attention than has been applied here. And if a problem does turn up with such a product, it really shouldn't take 25 days, four phone calls (two of them answered with outright rudeness), multiple emails, tweets, and other electronic junk, and three distinct support cases to get resolved.
In the end I'm glad I have the set, but if you'd told me up front how unhappy I was going to be along the way, I'd have saved my money. And now, all these days later, I'm no longer excited by this product or looking forward to enjoying it. Instead, I'm pretty much just going to stick it on my shelf where it will sit gathering dust. And that's the biggest shame of all.