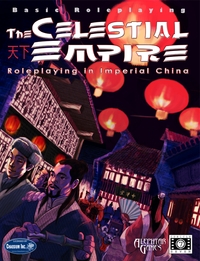 Hey! In case you missed it, a very nice guide to naming fictional Chinese cities has been posted over at The Celestial Empire.
If I'm not mistaken, the blog in question is operated by Gianni Vacca, the author of the book that's also named The Celestial Empire, which is an awesome resource for (and I quote) "Roleplaying in Imperial China" for Basic RolePlaying. So you can rest assured that the semi-random name generation won't leave you stuck with names that people who actually speak Mandarin (or maybe it's Cantonese? I admit to being a clueless gweilo* here) won't laugh at or be offended by.
So what are you waiting for? It's time to pay a visit to that noodle house in Ningzhou! The Celestial Empire blog has lots of other neat stuff to look at, too. So stop there along your journey.
*Why is it that so many derogatory terms for white people start with "G"? Gweilo. Gaijin. Gringo. Gorey. Gurra. It's odd.