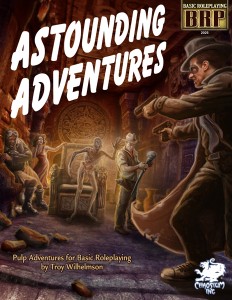 Chaosium just won't stop with the awesome. They've now officially announced Astounding Adventures!, a 30s/40s pulp supplement for BRP. Dayum!
My favorite game of all time was Justice, Inc. the standalone, pre-unified Hero System box set for the pulp genre. Easily my most successful and longest-running campaign (as a GM) was a Justice, Inc. game featuring a couple of recurring characters and a rotating cast of extras. It was the right level of pulpy goodness without being too derivative of the classics of the genre.
Unfortunately, Hero has long since become too complicated for my lifestyle and gaming tastes. But BRP, as I've mentioned more than once, hits the sweet spot between fast & dirty enough for me as a GM and crunchy and complex enough for the folks I game with most regularly. So maybe it's time to dust off my notes.
I'm not seeing a projected release date other than "2012" so I'm not going to start getting too worked up just yet. But I'm pretty confident I'll be dropping my cash on this once it's out. And hey, if nothing else, that's a pretty sweet cover they've put together for this thing.