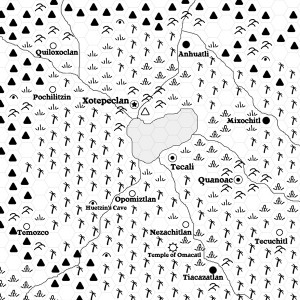 I love RPG maps as a concept, but I have a tendency to shy away from them for settings I produce. I like the vagueness that comes with the lack of a map. But at the same time, damn if the old "Known World" maps and such just set my mind to racing.
So, with a little help from map tools by the inimitable Dan Proctor and the incomparable harmyn, I decided to knock together this thing over here on the right side of the screen. Yep, it's an honest-to-goodness attempt to map out Tlactoztlan based on the bits and pieces that have been revealed in the various writeups I've done on that setting.
This is probably not final, and it certainly shouldn't be taken as any kind of canon. Or rather, I utterly and completely reserve the right to blow this up and replace it with something else entirely. Or at least refine it if I ever get on the stick and produce anything for distribution beyond the confines of the blog.
So let me know what you think of what you see. I'm no cartographer and I'm definitely open to suggestion. That said, I'm not overly concerned with realism here. So if you find yourself getting hung up on the intricacies of my terrain placement, please feel free to share. Just don't get too distraught if I don't immediately freak out with you 🙂