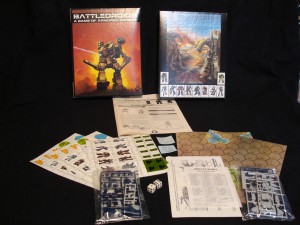 Howdy, everyone. It occurred to me this morning that some of y'all might be interested in (or know someone who would be) this eBay auction I've got up for a very cherry copy of the original Battledroids boxed set.
If you're not familiar with Battledroids, it's the original version of Battletech, that Macross-esque miniatures wargame that FASA used to produce back in the olden days. When they first released the game it was indeed called "Battledroids" but then a certain purveyor of science fiction films got all chippy with them over the use of the word "droid" and forced them to change the name to Battletech. So this is something of a rarity.
If you're one of the StrangeStonesHeads and you wind up winning this auction, let me know. It would please me to know this set was going to a good home.