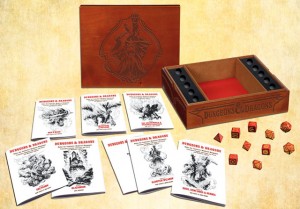 So we've all heard by now that Wizards of the Coast is planning on reprinting the OD&D rules in what looks to be a pretty sweet boxed set. Some folks are uninterested. Some folks are concerned about the price. Some folks seem angry. Still others are rather chuffed. In other words, unique individuals are having their own unique reactions.
You can count me in the last group, though. For even though I own a copy of the Original Collectors Edition of the white box (as seen previously), I don't own any of the Supplements in print form (I did get everything in PDF back when they were available through RPGNow) and I am an absolute sucker for a nice boxed set. And when that box is actual wood, well, sign me up! If nothing else, it'll be fun to have this alongside the wooden box I sprung extra for in the Deluxe Tunnels & Trolls Kickstarter.
Go ahead and call me a consumer whore if you want to. But I will happily (and luckily for me) note that the release date on this is just after my birthday. So I get to call it my precious as a birthday present and not feel quite so bad about dropping the cash on it.
In Other News
The awesome G-Man slid me a new BoL adventure a little while back and, though I've been remiss in reviewing it for him (and posting it for y'all) my schedule has cleared up at last and, with a little bit of luck, it should see the light of day by the weekend. Feel free to yell at me if it doesn't 🙂