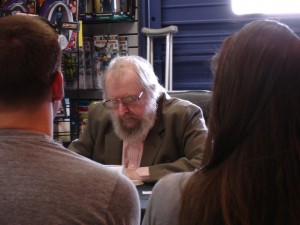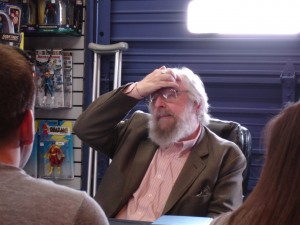 Below are a couple of relatively short video clips from this afternoon's reading by Michael Moorcock here in Austin (where he lives, in case you didn't know).
Big thanks to Austin Books for making this experience possible for those who were able to take advantage of this intimate little reading, Q&A, and signing opportunity with one of the absolute greats of fantasy.
Things I Learned Today
I will actually enjoy Doctor Who: The Coming of the Terraphiles
Mike's favorite Doctor was Tom Baker
Mike knew Tom Baker, and Baker was apparently prone to, shall we say, chemically induced improv while working on Dr. Who
The BBC has some quaint, vintage standards rules they apply to Doctor Who novels (alas, no miniature smoking lizard dudes allowed)
Mike is working on some fresh Jerry Cornelius stories
And I really can't stress enough just how nice Mike and his lovely wife Linda are. If you ever get a chance to meet these folks, do not pass it up.
Mike's Intro
Mike Actually Reading