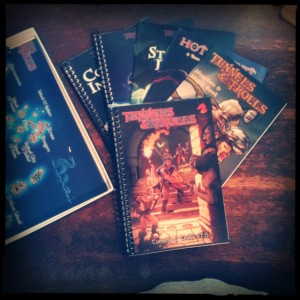 I've been meaning to buy the box set of the 7.5 edition of Tunnels & Trolls for a while now. Sure, I know there are people out there who really prefer the older 5.5 edition, which is still readily available. Sure, I already have the "30th Anniversary" mini-tin of the 7th edition. Sure, I prefer the classic Liz Danforth cover art to Claudio Pozas' reverent rendering of the classic T&T party.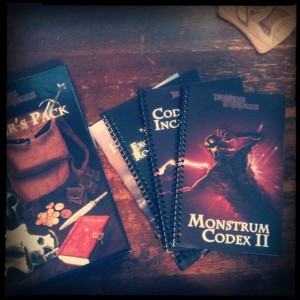 All of these reasons – coupled with laziness, miserliness, and plain ol' procrastination stayed my hand. Until Friday night, when I discovered not just the main set, but also the Delver's Pack, on the shelves of the inventory clearance sale (50% off!) at my friendly local game store, Dragon's Lair (whose RPG section appears to be shrinking, a disconcerting concept for a different discussion).
I couldn't really pass up what amounted to a twofer deal on something I'd been resisting getting even though I really wanted it, so I yielded to temptation. Like all things T&T I want very much to like these things more than I actually do – which is not to say that I don't like them. I like them quite a bit. But when I take the lids off the boxes I want the room to be flooded with mystical light that transports me to a place where I can game whenever I want, with whomever I want, and the Dublin Dr. Pepper & Newcastle Brown Ale both flow as freely as water. That's not really too much to ask from an RPG, is it?
Anyway, I'm glad I snagged these and I hope to actually do something with them sooner rather than later. Not that I don't already have enough systems waiting on me to do something with them as well (*cough* BRP *cough* BoL *cough* Labyrinth Lord *cough* E-T-C). Speaking of which, you're allowed to ask me why the hell I've been so quiet lately, since SXSW has come and gone. The short answer is that my fantasy baseball league is in the thick of its player acquisition period and that's been eating my brain. Plus, I must confess, a little malaise has crept into the Pao's brain and I'm not quite as chock full of ideas as I was recently. That's ok, it's part of a natural cycle. And maybe this experiment in nerdly materialism will spark my imagination and spur me on to a fresh round of posts. Or I can just knuckle down and focus on finishing the things I said I'd finish and let the actual friction of writing do the trick. Either way, bear with me just a bit longer, amigos!
In the meantime, let's meet the (no longer all that) New Trolls: