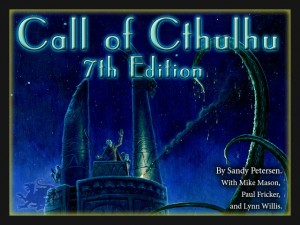 Yep, the Kickstarter for Call of Cthulhu 7th Edition is live. If such things interest you, here's your chance to make things happen.
I can say that in the two playtest games I was able to take part in that I didn't personally care for the changes and additions to the system. But just because they weren't my cup of eldritch ichor doesn't mean that you won't enjoy their flavor.
Speaking of the playtests, I can't answer any questions about the new version of the game because (a) I think I'm still under an NDA and (b) I don't really remember much except not liking the changes. Hopefully there'll be a bit more information available than is currently up on the Kickstarter to help people understand if the changes will be to their liking.