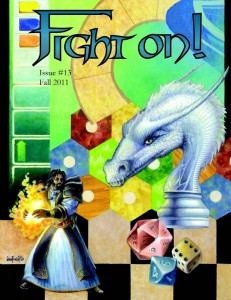 That's what I said. Fight On! #13 is now officially available (print, pdf). This issue is dedicated to the mighty Ken St. Andre and has a substantial number of Tunnels & Trolls-related articles. Here's the full rundown:
Table of Contents
The Swashbuckler (Calithena) 3
Elves as Green Men (Walt Jillson) 4
Variant Kindreds (Age of Fable) 5
Grognard's Grimoire (Erin "Taichara" Bisson) 6
Cantrips Gone Wild! (John Laviolette) 7
Battle School (Ken St. Andre) 10
Mysterious Laboratory of Xoth-Ragar (Alex Fotinakes) 15
Knights & Knaves (The Venomous Pao) 22
Creepies & Crawlies (garrisonjames) 25
Artifacts, Adjuncts, & Oddments (Hudson Bell & Cal) 27
Slaughter in the Salt Pits (Gabor Lux) 28
The Library of Karvu Naudra (Jason Vasché) 33
An Unfamiliar Encounter (John Larrey) 36
The Goblin Market (Richard Rittenhouse) 40
Bonus Tables (Jeff Rients) 45
What is this Monster Scared Of? (Dustin Brandt) 46
Fruiting Towers (Patrick Wetmore) 47
Tricks & Treats (Andreas Davour & Wayne Cayea) 58
Mythal (Calithena) 61
The Tale of an Egg (Baz Blatt) 69
The Darkness Beneath (Makofan) 78
Champions of ZED (Daniel Boggs) 98
In the Shadow of the Catskills (Michael Curtis) 111
Scramp! (Richard Rittenhouse) 116
Education of a Magic User (Douglas Cox) 120
Top Tips for Tunnels & Trolls (Big Jack Brass) 121
Doxy, Urgent Care Cleric (J. Linneman & K. Green) 122
In addition to all the great art you've come to expect, you'll find a delightful full color front cover by none other than Liz Danforth, the glorious queen of gaming art.
So what are you waiting for? Go throw a little green at those responsible for making this wonderment a reality. You'll be glad you did.
p.s. The fact that your humble scribe just happens to have an article published in this issue in no way compromises his integrity when recommending that you purchase this fine volume. No, really. Honest!